ThinkTankPhoto Slingo-O-Matic 30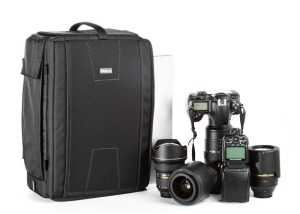 I love ThinkTank products, each bag has had a lot of thought put into it's use and it's function. I can see where the Sling-O-Matic line  can be the absolute perfect bag for some. Walking around downtown, or a stroll through a park, this is a perfect bag. Plenty of room to carry what you need, and fairly quick to sling it around. Though, best to loosen the strap and lower your "workspace". This takes some practice. I can see my self using this bag when I go to down town Vegas, or "The Strip" to shoot the neon lights. However I don't see this as a functional bag for shooting motorsports. With that said, keep in mind what does work for me, might not work for you, and what works for you may not work for me. I am a utility belt kind of guy, and as much as I love the concept of the Sling Bag, I cant seem to adapt to use it.
While it was great during a convention, working in very crowded conditions was not easy. I also found the bag packed with a Mark III and a 100-400, Flash, 24-70 2.8 and a 17-35, my shoulders and back were a bit sore. Keep in mind that this is pro equipment, and not very light.
Ingenuity is an unspoken trademark of all ThinkTank Products, and the Sling-O-Matic line is no exception. It is very easy to move the strap so you can sling over either shoulder. This will help the people (Like My Self) who tend to feel the pains of being a photographer. The operation of the bag stays the same on either shoulder. It has plenty of dividers so you can customize how it hold your gear. It can also hold a 15 inch laptop, tablet, iPad with a pocket made for just that reason
.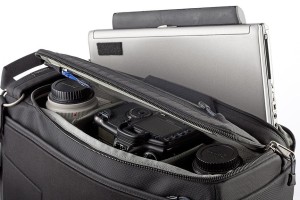 This bag is perfect for photographers who are not big pro glass users, with a lighter assortment of lenses and bodies. I would not hesitate to take this bag on a hike, on a local shoot, or on a walk when you "just have to have a camera with you" times.I would not use this bag as a shoot all day bag, like at an all day wedding or convention.The Sling-O-Matic 30 has plenty of uses, and for some this will be the absolute bag that you can't live with out!
The ThinkTankPhoto Product I will review will be the Speed Racer 2.0.